Inner Space Icon
From ISBoxer
Locating the Inner Space Icon
If you have not run the Inner Space application, look for an icon on your desktop that looks like: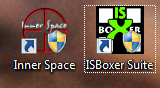 You should run the Inner Space application. Running that Inner Space application will not always look like much is happening, unless there is an update to the Inner Space application that is being downloaded. Most of the time an icon will then appear as the red crosshair icon in the Notification Area of Windows like this:


If you cannot see the Inner Space icon, you may need to click on the Triangle to the left of the Notification Area

.
You can then see the Inner Space icon.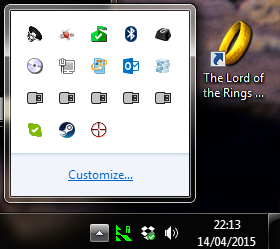 As this is sometimes annoying to get to all the time, you can make this visible all the time by selecting the Customize link (on Windows 7), and then setting the Inner Space icon to "Show icon and notifications". For other versions of Windows, you can drag and drop the icons from the Notification hidden area; left click and hold and drag and drop the icon to the visible bar. For Windows 10, you can also find an option in the Taskbar settings, and then the Select which icons appear on the taskbar.