Set Variable Keystroke Action
From ISBoxer
This content (or portions thereof) describes ISBoxer 40 or earlier! ISBoxer 41 has been released, and we are still working on updating parts of the documentation for the new version.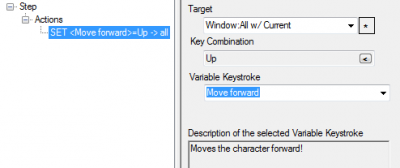 A Set Variable Keystroke Action assigns a Key Combinationto a Variable Keystroke, for some Target.
Variable Keystroke Action supports Round-robin via a check box. When activated, the Key Combination will be passed to one window matching the Target at a time.
See Also