Character
From ISBoxer
This content (or portions thereof) describes ISBoxer 38 or earlier! ISBoxer 41 has been released, and we are still working on updating parts of the documentation for the new version.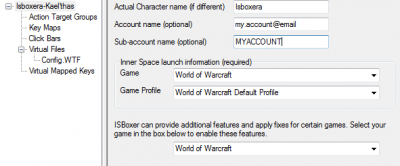 A Character is a representation of your in-game Character. A Character Set is a team formed with your Characters.
Creating a Character
Characters are normally created during the Quick Setup Wizard but may also be created manually.
To create a new character manually:
In the top pane, right-click on Characters and select New Character.
Type the name you wish your new character to have. This will be the name by which ISBoxer knows that character.
Fill in the information in the bottom right pane, ensuring you also select your game in the additional features and fixed drop-down if it is available.
Associations
See Also