Quick Setup Wizard
From ISBoxer
This content (or portions thereof) describes ISBoxer 38 or earlier! ISBoxer 41 has been released, and we are still working on updating parts of the documentation for the new version.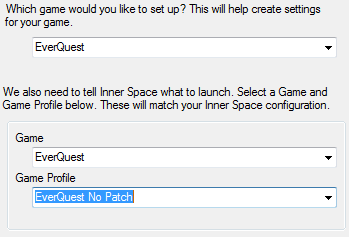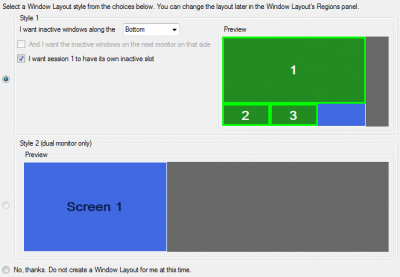 This page describes the Quick Setup Wizard as available for all games. For World of Warcraft, please see WoW:Quick Setup Wizard.
The Quick Setup Wizard provides a simple way to create a Character Set, with settings for Repeater and a Window Layout. When used for World of Warcraft, the wizard can also generate some basic Key Maps (see WoW:Quick Setup Wizard for more information).
The Quick Setup Wizard can be found in the Wizards menu. If you don't see the File, Wizards, and Help menus at the top of ISBoxer, tap the Alt key and they will probably appear. Otherwise, you can right click on Character Sets as if to create a new Character Set, and the Quick Setup Wizard is one of the options. The Quick Setup Wizard is also hotkeyed to Ctrl+Q.
Walkthrough
The first thing the Quick Setup Wizard is going to ask you for is information about the game you want to play. If that game is specifically listed in the upper drop-down box, select it; otherwise select Other. The bottom two drop-down boxes are populated with game information from Inner Space. If your game is not listed, select Add Game from the Inner Space menu (right click the crosshairs icon in the system tray). After adding a game through Inner Space, close Inner Space and then restart ISBoxer; this will allow ISBoxer to read the new information. If your game has a "No Patch" profile, it is advised to select that profile rather than the "Default" profile. If you use multiple game folders (note that by using multiple game folders you will incur a performance hit), you can add each folder with Add Game and select it per Character in ISBoxer after completing the wizard.
After selecting the Game information, the next page sets up the Characters to form your new team. If you're playing World of Warcraft, see Quick Setup Wizard for WoW-specific information about the wizard, as this next page is different. For all other games, you are presented with a box to enter your Character's name. It is not imperative that the name matches, but it is recommended because future ISBoxer updates may include functionality that makes use of this information. A second box is available to tell ISBoxer how to show your name in the interface; this is helpful for Character names that are very similar in appearance.
Next, select a name for your team. Yeah, that's all.
Finally, pick a Window Layout if you want ISBoxer to set one up for you. Style 1 is primarily used for multiboxing on 1 monitor (I personally keep 1 monitor for my 5 game windows, and my second monitor for everything else like web browser, etc), and can line windows up along an edge of the window. Unlike what you get with other multiboxing software, these windows are generated with aspect ratio identical to the large region. There are some options for Style 1, and playing with the controls will show you in the Preview window what it would look like with those options. The one option that may need explaining is I want session 1 to have its own inactive slot. When this option is checked, there will be 1 more region than there are Slots in your Character Set, so that all windows have room to be set aside at once; this makes it effortless to identify which Character you are playing at any given time -- the active Slot will be in the main region instead of a small region, and there will be a hole. When the option is not checked, Slot 1 will change places with whatever Slot is active, borrowing its small region.
What we configured
This page describes the Quick Setup Wizard as available for all games. For World of Warcraft, please see WoW:Quick Setup Wizard.
See Also